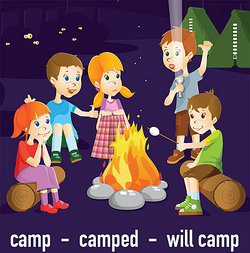 Past tense verbs refer to actions or events in the past. They can be regular verbs that simply end with a "d" or an "ed" or they can be irregular and change their spelling to show the past tense.
Regular Past Tense Verbs
The chart below includes examples of regular verbs and their past tense form:
Irregular Past Tense Verbs
Irregular verbs usually change the spelling for their past tense form. This chart includes examples of the original verb and the past tense:
For more information on past tenses, check out ESL Past Tenses and Verb Lesson Plans.