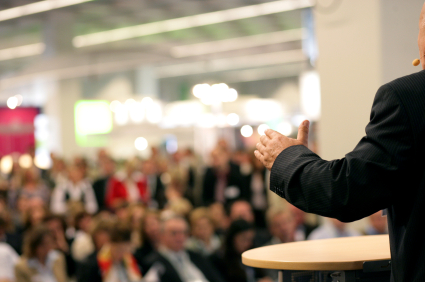 Great orators can start revolutions, stir up emotions, and spur people to action. Memorable oration can often be found in formal speeches given at momentous occasions, such as graduations, rallies, dedications, and presidential inaugurations.
Great Oration in History
Abraham Lincoln
Given at the dedication of the Soldiers' National Cemetery in Gettysburg, Pennsylvania, on November 19, 1863:
Four score and seven years ago our fathers brought forth, upon this continent, a new nation, conceived in liberty and dedicated to the proposition that "all men are created equal."
Now we are engaged in a great civil war, testing whether that nation, or any nation so conceived and so dedicated, can long endure. We are met on a great battlefield of that war. We have come to dedicate a portion of it, as a final resting place for those who died here, that the nation might live. This we may, in all propriety do. But in a larger sense, we cannot dedicate, we cannot consecrate, we cannot hallow, this ground. The brave men, living and dead, who struggled here, have hallowed it, far above our poor power to add or detract. The world will little note, nor long remember what we say here; while it can never forget what they did here.
It is rather for us the living, we here be dedicated to the great task remaining before us–that from these honored dead we take increased devotion to that cause for which they here gave the last full measure of devotion–that we here highly resolve that these dead shall not have died in vain, that this nation shall have a new birth of freedom, and that government of the people, by the people, for the people shall not perish from the earth.
Martin Luther King
Given in August of 1963 at the Lincoln Memorial. This is one of the best examples of oration, but was too long to be included in its entirety. Following is an excerpt:
And so even though we face the difficulties of today and tomorrow, I still have a dream. It is a dream deeply rooted in the American dream.
I have a dream that one day this nation will rise up and live out the true meaning of its creed: "We hold these truths to be self-evident, that all men are created equal."
I have a dream that one day on the red hills of Georgia, the sons of former slaves and the sons of former slave owners will be able to sit down together at the table of brotherhood.
I have a dream that one day even the state of Mississippi, a state sweltering with the heat of injustice, sweltering with the heat of oppression, will be transformed into an oasis of freedom and justice.
I have a dream that my four little children will one day live in a nation where they will not be judged by the color of their skin but by the content of their character.
I have a dream today!
I have a dream that one day, down in Alabama, with its vicious racists, with its governor having his lips dripping with the words of "interposition" and "nullification"–one day right there in Alabama little black boys and black girls will be able to join hands with little white boys and white girls as sisters and brothers.
Great Orators
The word "oration" comes from the Latin word "oratio" for "speech" and "orare" for "to plead, speak, or pray." It is a speech that is usually elaborate and dignified. The word "oratory" refers to the art of public speaking. An "orator" is a public speaker.
Some of the greatest orators of recent times include:
Examples of oration go back to the ancient Greek civilization.
Plato and Aristotle were well known orators and the art of public speaking was taught for use in court, politics, or any time the need arose.
The Romans took this skill and added to its instruction the study of grammar and how to prepare speeches, as well as studies in the humanities. They added humor to the speeches and it evolved into a form of entertainment with skilled orators making a good living.